Welcome to our Birch Tor Page!
Our class is a bright and welcoming space. It has a beautiful garden that we use all the time come rain or shine. Our children are supported in their learning by Mrs Banwell, Carole, Maz, Judy and Lesley.
We are lucky to have parent helpers that come in to support our play and would always welcome more!
In Birch Tor we support children's play and exploration by recognising that every child's learning journey is unique to them. We promote positive relationships, encouraging cooperation, sharing and a respect for others. We provide flexible, stimulating resources for children which they can use in a variety of ways. We encourage active learning by providing many opportunities for outdoor play, we observe constantly and review the environment to ensure that it is interesting, attractive and accessible to every child so they can learn independently. Children are allowed to move equipment around the setting, indoors and outdoors, to extend their own play.
Activities are a balance between adult-led tasks and child-initiated learning.
We are incredibly lucky to have a balcony and an artificial grass surface and we have added pebbles, cobbles and gravel so the children have an all year round surface to play outside on.
Thank you to the PTA for helping us fund this project!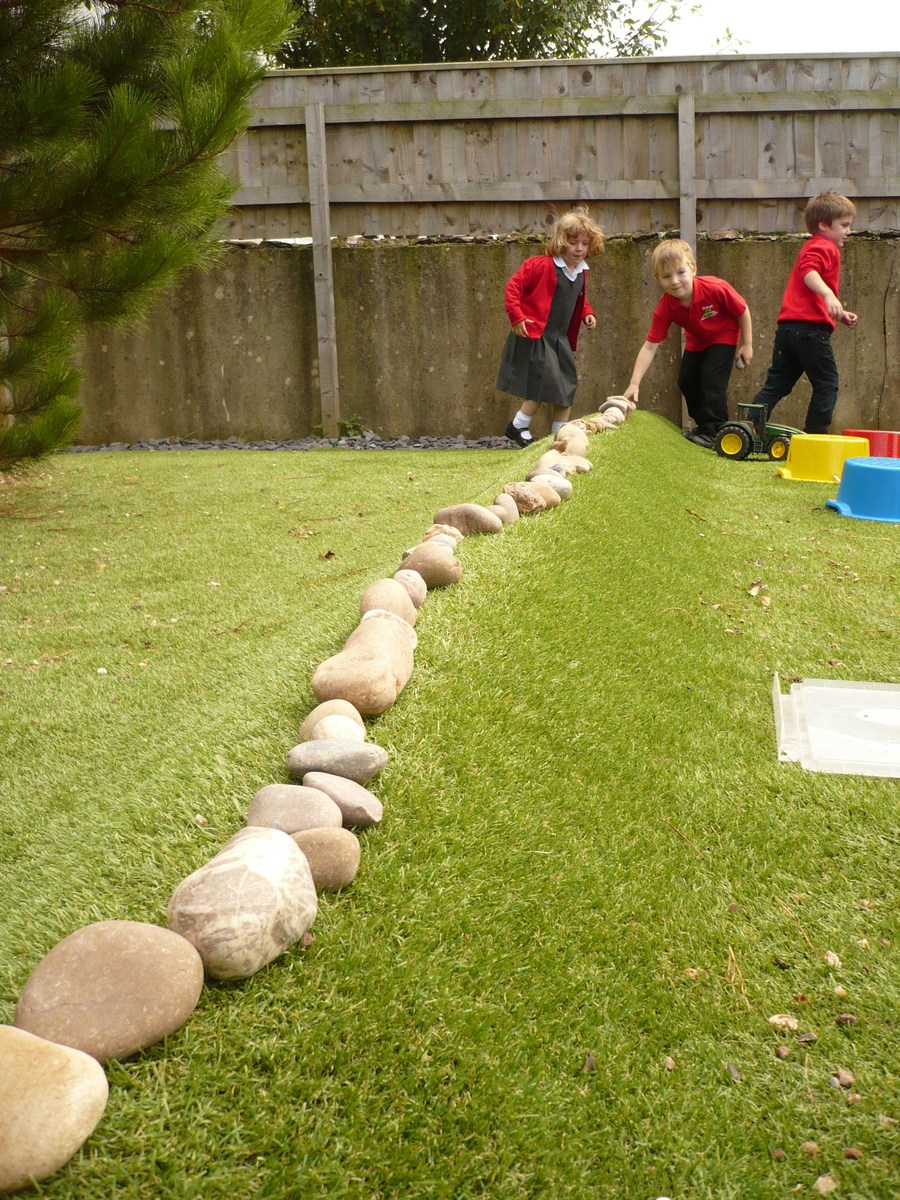 Some very purposeful writing outside - we recorded some mini beast finds and used our outdoor writing kits all over our lovely garden.
Amazing teamwork to make some wonderful bug hotels - good observation of some mini beasts that were there straight away. We have made a good habitat for all sorts of creatures.
What a lovely afternoon we had at Finley's farm! Thank you for showing us around Finn - we had such fun and learnt a lot. We loved the lambs - they were so friendly! Or were they hungry? The Gator ride was "awesome" too. A wonderful time in a beautiful place.
Look at the lovely new addition to our play area! We are so lucky to have this beautiful climbing frame in our Birch Tor garden! We have been having such fun on it!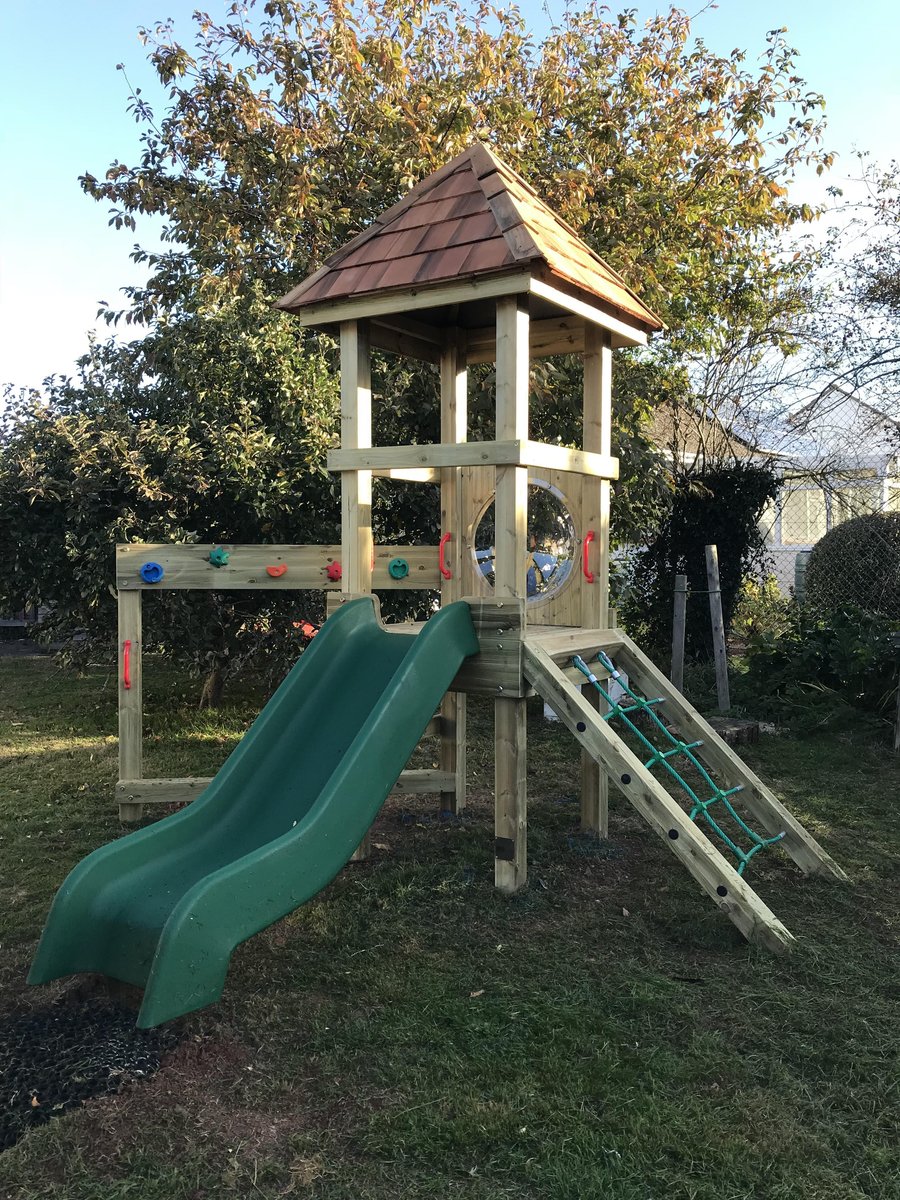 Welcome to our lovely new children and their families. The children have settled in so well and are getting to know us all and our routines. We have been playing, sharing and working together and this week we stayed for lunch. What a super bunch they are and our Year 1 children have been so welcoming and helpful - thank you!
Our topic this term is called Fighting Fit. Here are some of the lovely activities we will be doing this term.
Have a look below at some of our earlier adventures!
Getting ready for our Forest school - Look at all the teamwork!!
We made tornadoes!!!!! We added glitter and some washing up liquid to a jar of water and watched it swirl and whirl around. we learnt a new word - vortex!! William knows a lot about tornadoes and water spouts!! He was very helpful during our experiments!! It was very exciting!!
Symmetry
Birch Tor have been finding out about symmetry. We made some amazing patterns using play dough and pegs and counters. We had to make sure that the pattern was the same on both sides of the line. It was such fun! our patterns were beautiful and we learnt how to explain what symmetrical meant. Look at our pictures below. We also made butterflies by painting one side of the paper and folding it in half.
Who came to visit Birch Tor class the other day?
We couldn't believe our eyes when we got back from playtime!! What had happened - who made such a mess? We looked very closely around the room for clues and we saw some footprints and some branches. We followed the trail through the classroom and back outside - whatever it was had gone. We made lots of posters to put around the school to ask if anyone had seen our visitor or knew where he had gone!
Wonderful Bluebell Walk
What a lovely afternoon we had walking up to Denbury Down to see the bluebells and wild garlic. The woods were truly beautiful, full of dappled shade and the most amazing colours. The sights and smells were lovely - we saw such a lot of blue - it was really like a carpet! We used all our senses to explore, we saw parts that looked like a fairy garden, there was a tree arch to climb under and steep slopes and windy paths. At the very end we walked through a bright yellow field of buttercups too. We looked at the views and felt very proud that we belonged to this wonderful part of the country!!
---------------------------------------------------------------------------------------------------------------------------------------------------------------------------------------------------------------------
Birch Tor Election Day
On Election Day whilst the country was buzzing with news of exit polls, vote shares, majorities and coalitions, Birch Tor held their own election day. We joined in with the nation to vote for the most popular British bird!
After an extensive bird watch around the school grounds we narrowed down a selection of birds to six choices - robin, starling, kingfisher, eagle, pigeon (?) and woodpecker.
It was a wonderful day with all the children in the school coming to the polling station to cast their vote. We invited our mums, dads, grannies, granddads and friends to join in and have their say too.
We were very organised with our posters, clipboards and warning signs to "mind your head" just in case! Lots of lovely talking and explaining, helping and working together helped make it a very exciting day.
And the winner was ...........
The Robin with a landslide victory - no coalition needed!
BIG numbers - we have been investigating 2 digit numbers. We worked together to match, sort and order numbers by looking at the tens and ones (units). Lots of lovely talking and listening to each other and cooperative work. Brilliant children!!!
Making our Dragon!
What a lot of fun we had making our dragon! We read lots of dragon stories and especially loved the story "George and the Dragon". Lots of lovely cutting, sticking and painting - and hiding from our grown ups!!! Watch out she is flying about the classroom now - mind your heads!!!